Welcome to the Oyster Club's Hurlothrumbo Web
This site is maintained by the Oyster Club which is a camp in Platrix Chapter #2 of E Clampus Vitus, Queen of the Cow Counties. If you don't know what E Clampus Vitus is, you might try reading A Non Clamper's Guide to Clamperdom by Judge Frazier. It won't leave you any more enlightened, but you might be amused. If you want to learn more, buy a clamper a drink and show some interest in California gold rush history.
E Clampus Vitus or ECV is a California historical and drinking society not necessarily in that order. That means we talk about history usually with a cocktail in hand. "Clampers", as we are known, are given to toasting just about anything and everything. If you meet a group of Clampers, raise your glass and say "to the hurlothrumbo." They will all toast and respond with a "Satisfactory". This is a tradition that goes back to the 1850s, but frequently Clampers don't remember or know what they are toasting. I was a Clamper for 15 years before I asked one of the Greybeards "What is this hurlothrumbo?"
After a few trips over several years to the Bancroft and Huntington libraries, we put together a hurlothrumbo history lesson so that young Clampers might learn our traditions. It is about as accurate a representation of the story of the Hurlothrumbo and its crew as you are likely to get from a bunch of Clampers. The first reaction from some of our younger brethren was "Let's restore the hurlothrumbo." The original hurlothrumbo sits outside Murphys, California, but unfortunately there is very little of it left, just some redwood planking and leaf springs. The wheels and any of the steam equipment and pumps are long gone.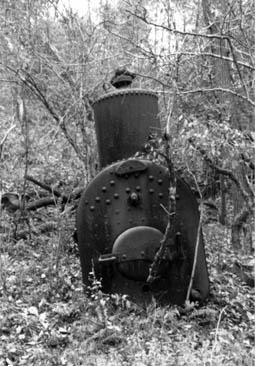 Since the original plans for the hurlothrumbo burned in the explosion and fire that killed Joseph Potter, we couldn't build a completely historically accurate hurlothrumbo if we wanted to. While the Greybeards encourage alcohol and history, the thought of running a 19th century cast iron steam boiler with a drink in hand seemed like a bad idea. Similarly we thought it a bad idea to try to reproduce Potter's ether based refrigeration system. Ether is dangerous stuff.
I'm not revealing the current location of the steam boiler to the left. It has been suggested that this is the boiler from the hurlothrumbo mentioned in the Twain manuscript, and that we base our "restoration" around this boiler. GIVE IT A REST, Guys! It is not going to happen!
After a few more drinks, we decided to build a hurlothrumbo using as much 19th century technology as possible except where safety and environmental concerns override the desire for historical accuracy. We have named our new hurlothrumbo "The Big Easy" after Easy Sloman and our fondness for New Orleans cocktails, food and music. Easy has passed on to the Golden Hills, but we remember his skills as raconteur and mixologist. He was a terrible poker player and could be counted on for a cash infusion into any game. You can't ask for much more in a clamper.
You can track the progress of our construction of The Big Easy by clicking here. Being Clampers, we also drink. If that is of more interest to you click here.
Jim Ley's Web Site should give you an idea of the sorts of things we clampers devote our time to: http://www.n6ecv.net/
This site was last updated 14 October, 6006 Click HERE to see the latest goodies.