<![if !vml]>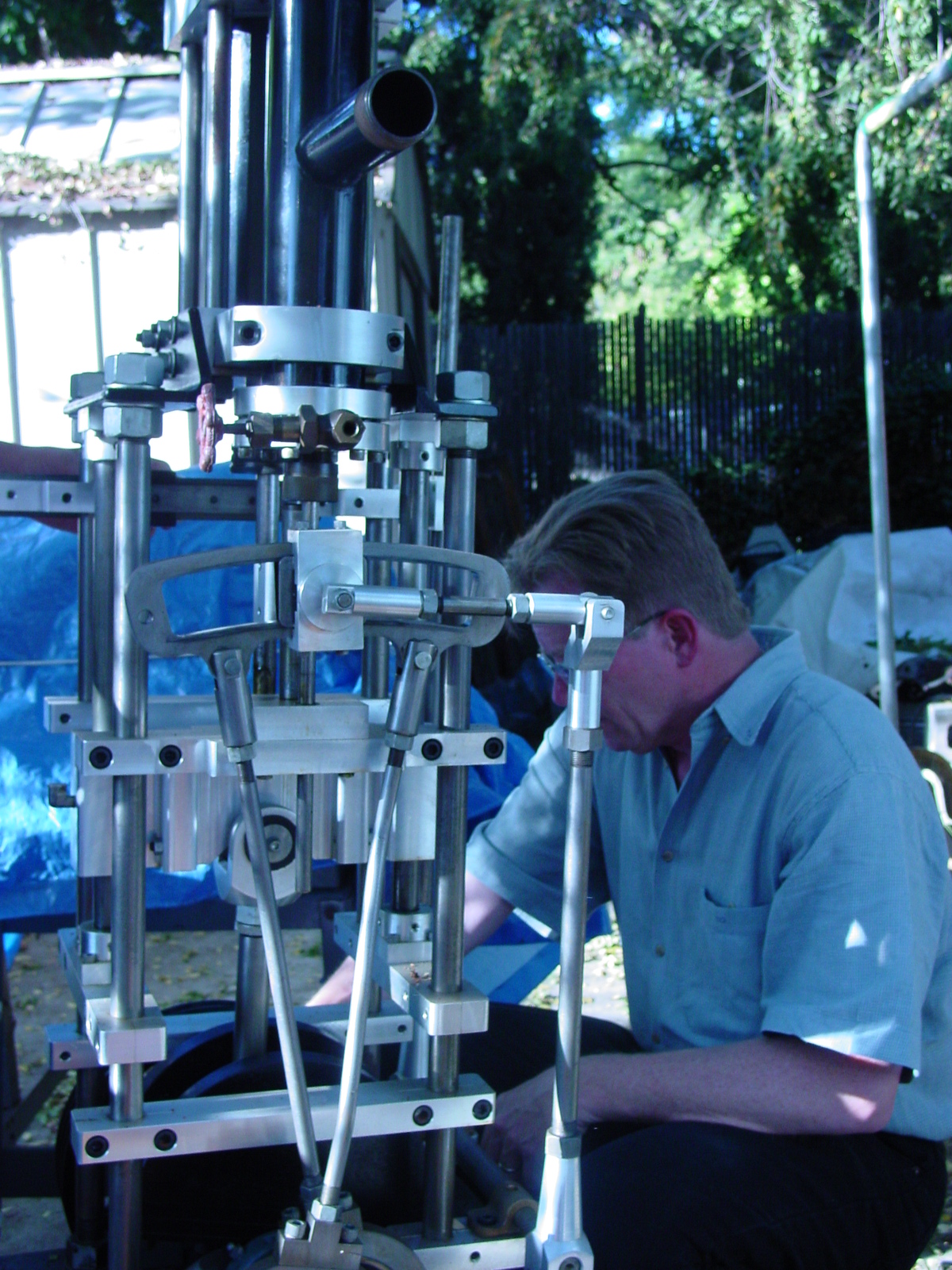 <![endif]>
REPORT FROM THE CHIEF ENGINEER
6 October, 6006
Dear Friends,
I am enroute back home to New York, and, with a nice, cold lobster salad and several glasses of reasonably good whisky under my belt, I want to report on this weekend's efforts towards the realization of The Big Easy, the Platrix hurlothrumbo.
First, I want to thank the many Clampers for their excellent suggestions, offers of material and labor, and for the collective enthusiasm I experienced. The Big Easy is becoming a Platrix-wide project, much to the delight of myself and my colleagues in The Oyster Club. I want to list some of the interesting suggestions and comments.
1. For one, Clamper Bent has suggested that we include a steam calliope as an onboard musical adjunct. This is an excellent suggestion. There are a number of talented musicians among us, and we can provide period wherewithal for them to express their talents at Clamp outings, parades and social events.
2. Along these lines, we are all coming to see that The Big Easy is something for us to share (for money) with both the Clamping and the non-Clamping world. We should not expect to utilize the apparatus' function only two weekends a year. Under the ownership of Platrix Chapter No. 2, Queen of the Cow Counties, and under the stewardship of the Oyster Club, The Big Easy will gain renown far and wide across the Golden State.
3. Another astute Clamper has suggested that we institute a course of study and training to prepare operators for the various on-board mechanical, electrical and food-preparation systems. In exchange for tax-deductible donations, members can receive serialized training manuals for home study*. We will conduct tests and issue Operators' Certificates at succeeding Clampouts. This way, we can not only train a cadre of capable technical operators, but we can raise funds for the continuing maintenance and development of The Big Easy. Now, tell me, how many of you have wished you could come up to a police or security checkpoint, present your credentials, and hear an Officer shout, "Let this man through! He's a licensed hurlothrumbo operator!"?
*It has been suggested that we model the training courses and fee schedules on the "Auditing" programs of The "Church" of Scientology. I believe that this is a worthwhile idea.
4. We will re-publish the materials and labor-donation Wish List, and will encourage all Clampers to offer possible hardware for construction. I understand that we have already received offers for an 8-kW backup generator, skilled carpentry, pin-striping, gilding and sign painting and for a licensed Fire Marshal's approval of the on-board fire suppression system. Excellent! Please forward your offers and suggestions to the website, www.hurlothrumbo.com.
5. Work in Progress
We visited Little Ernie, the steam engine generously donated by Clamp Ogre Brackenridge, and intended to be the main power source for The big Easy. Little Ernie is a superb machine, beautiful in the simplicity of its design. With the exception of a sheet-brass insulating cowl around the cylinder head, Little Ernie needs no further modifications. Any additional adornment would be, in my opinion, impertinence. The engine will be able to power all of the onboard systems as illustrated in the conceptual drawings I circulated at the Tait Ranch.
A number of Clampers have researched sources for commercial trailer chassis, and the field reports are encouraging. We can get a 22-foot, dual-axle, electric-brake model at a reasonable price. When Little Ernie is properly bolted down to the integral bedplates and the direct-contact boiler is installed, the balance of the effort will be straightforward.
6. Fundraising
I call on Platrix Chapter No, 2, Queen of the Cow Counties, to organize a fund-raising effort to secure the trailer chassis and other components. We will need to buy (or cadge) a number of other items, such as propane and carbon-dioxide tanks, shafting, bearings, pulleys, an alternator and switchgear, plumbing fittings- in short, a myriad of vital components. Further, we need to consider where The Big Easy will reside in-between public and Clamp functions. With a total expected length of twenty-six feet, a width of seven feet, six inches and a stepped height of nine feet, The Big Easy, like its namesakes, will take up a good bit of real estate.
7. Time Line
Will The big Easy make its debut before the next Millennium? Quite likely. If we can fund and purchase a trailer chassis, we can mount the engine and boiler over a weekend. The veneer side casing and sheet metal oddments require simple (but precise carpentry). The varnishing and rubbing, the painting and decoration, are all short-term tasks. On my next trip to Los Angeles I intend to successfully lobby for donations of the refrigeration compressor and components. I may also be able to arrange for volunteer student labor for the pipe fitting and assembly.
8. Prime Mover
Current calculations have determined that, fully-loaded, The Big Easy will hit the road at about 9,000 pounds. We will need a substantial tow vehicle to haul our hurlothrumbo around the state. We will design the trailer with proper tongue loading for connection to a standard chassis-mounted hitch. I will call on well-endowed Clampers who can offer very big rigs to step forward and to discuss the issue with the Engineering Committee.
Well, they're serving the tiramisu and cognac now, so I will ring off. I look forward to our mutual effort and to the successful launching of The Big Easy.
Best regards, and a hearty SATISFACTORY!
Potter
[ Home ]